FMEA Online Training Course Catalog
FMEA Training for Business Processes (Non-Manufacturing)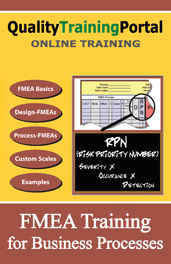 Intended Audience
Anyone who will be serving as a member or leader of an FMEA team in a non-manufacturing setting.
Time To Complete
6 hours (0.6 CEUs)
This FMEA training non-manufacturing course is designed specifically for people doing FMEAs in non-manufacturing environments such as an office setting, hospital, bank or other transactional business.  Learners will be able to participate on process FMEA teams after successfully completing this training.  Examples and terminology are focused on service transactions.  Follows FMEA guidelines provided in AIAG's FMEA 4th Edition.
This Training Enables Learners To…
Explain the purpose of conducting an FMEA and explain the benefits of using FMEAs in an office/transactional setting.
Describe the link between FMEAs and quality standards.
Explain the methodology of the FMEA process.
Assemble an FMEA team.
Clarify the scope of an FMEA.
Work through the 10 steps of an FMEA in a service environment.
Develop custom ranking scales for Severity, Occurrence, and Detection.
Determine which technology tools to use as aids in your FMEA action plan.
Link FMEAs to a Control Plans.
Turn an FMEA into a living document.
FMEA Training Non-Manufacturing
Unit 1: FMEA Overview
Lesson 1: Introduction | An overview of what an FMEA is; how the FMEA process works; and why an FMEA is used.
Lesson 2: Purpose of an FMEA | An explanation of how an FMEA helps identify risks, prioritizes the risks relative to one another, and focuses efforts on an action plan to reduce the risks.
Lesson 3: Tie to Quality Standards | An overview of the links between FMEAs and Quality Standards such as ISO 9000, QS-9000, & ISO/TS 16949.
Lesson 4: DFMEA or PFMEA? | An explanation of the differences between a Design-FMEA and a Process-FMEA.
Lesson 5: The FMEA Process | A preview of the 10 steps used to conduct an FMEA. The same basic steps apply to both a DFMEA and a PFMEA.
Lesson 6: Assembling an FMEA Team | Helpful hints on assembling an effective FMEA team.
Unit 1 Challenge | An assessment of the learner's progress in this unit.
Unit 2: Process FMEAs
Lesson 1: Process FMEA Scope | How to clarify the scope for a PFMEA. Details on how to use the PFMEA Scope Worksheet.
Lesson 2: 10 Steps to Conduct a PFMEA | Step-by-step directions on conducting a PFMEA. Guidance on the use of the FMEA Analysis Worksheet. Techniques for customizing the Severity, Occurrence, and Detection Ranking Scales for a PFMEA.
Lesson 3: PFMEAs & Control Plans | Using the PFMEA Analysis to develop a proactive Control Plan
Lesson 4: Getting More Out of Your PFMEA | Tips on the best times and places to conduct a PFMEA. Tips on how to use the results of an FMEA to trigger continuous improvement.
Lesson 5: PFMEA Example | An example of the application of a PFMEA, working through all 10 steps.
Unit 2 Challenge | An assessment of the learner's progress in this unit.