FMEA Online Training Course Catalog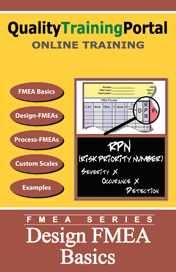 Intended Audience
Design engineers, product managers, marketing and customer service personnel.
Time To Complete
5 hours (0.5 CEUs)
Design FMEA Training (DFMEA) training provides step-by-step instructions on how to conduct Design FMEAs. Learners completing this training will be able to effectively participate on a DFMEA team and make immediate contributions to quality and productivity improvement efforts.  While the training is comprehensive, it is specifically focused on Design FMEAs.  Follows FMEA guidelines provided in AIAG's FMEA 4th Edition.
This Training Enables Learners To…
Explain the purpose of conducting a DFMEA.
Explain the methodology of the DFMEA process.
Assemble a DFMEA team.
Define the scope of a DFMEA.
Work though each step of conducting a DFMEA.
Use the FMEA Analysis Worksheet to document the results of the study.
Customize the Severity, Occurrence and Detection Ranking Scales.
Use the results of a DFMEA to trigger continuous improvement.
Design FMEA Training
Lesson 1 – What is a DFMEA?
Lesson 2 – Purpose of a DFMEA
Lesson 3 – Assembling a DFMEA Team
Lesson 4 – DFMEA Start-Up
Lesson 5 – 10 Steps to Conduct a DFMEA
Lesson 6 – Getting More Out of Your DFMEA
Lesson 7 – DFMEA Example